Ajanta Ellora caves are situated in Aurangabad District, Maharashtra and assumed to be constructed in 2nd century. These caves are made by cutting the big rocks and shaped them into the caves and beautiful paintings and carvings are made on the walls. These paintings reflect the ancient culture, their living styles, their feelings and emotions. As per the surveys these caves are famous for the best sculptures and paintings of Lord Budha which affects the Indian religions and the ancient monasteries which are built as a result of different Buddhist traditions.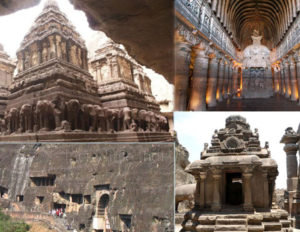 For the history lovers it will be a great place to know about, you must carry your cameras to get the pictures and other important details to capture.
Architecture of Ajanta Ellora caves
These caves are formed by the cutting the Basalt Rocks, some sharp tools were used to give the rocks correct shapes. The different parts of the caves includes the 'Vihara Halls', which are square in shape and surrounded with pillars and beautiful carvings of Buddha's life are there on the walls which reflects the struggle of his life. The other hall includes the 'ChaityaGraha', a hall with stupas where you can see the life cycle of Lord Buddha from the birth. You can see various styles of sculptures which are rare to see anywhere in the world.
12 famous Buddhist caves in Ajanta Ellora
Theses caves are the most important part of your India trip to here where you can see a 15 feet high statue of Buddha and the walls are filled with the beautiful sculptures of Lord Buddha's life. All these 12 caves are dedicated to the life of Buddha and reflect his views and thoughts towards the life.  Must carry your cameras to click the beautiful and ancients sculptures as your beautiful memories.
Famous temples to visit in Ajanta Ellora Caves
Grishneshwar temple in Ellora is dedicated to lord Shiva and is one of the famous five Jyotirlings of Lord Shiva in Maharashtra. It is one of the most visited temple by the visitors here and apart from this the Kailashnatha Temple, the famous Jain Caves, etc.
Some other places which you can visit nearby the Ajanta Ellora caves
Some of the famous places which you must add-on your 5 days trip to Mumbai and Maharashtra includes the famous Sai Temple in Shirdi where you can found a huge rush of devotees on any time of the year, Aurangabad caves are also dedicated to the Lord Buddha and are close to the city, BibiKa Maqbara is famous as the mini Taj Mahal in Aurangabad is also a tourist attraction there and famous Salim Ali Lake to spend your beautiful evening with your loved ones. So don't miss all these places to enjoy while you are planning to Maharashtra.
So hurry up plan your trip to Ajanta Ellora caves with Travelogyindia.es. They will give you best deals and offers while planning with your family and friends.