We are here to provide you Air Canada Reviews. It is very important to get all the knowledge about place and transport service before going.
This was the return journey home from our 12-day visit to Argentina, which was booked several months in advance. Redeeming reward points from our Air Canada Aeroplan frequent flyer account. Given the great distance and long journey time from Canada down to Argentina, comfort was a priority. So we decided to splurge treating ourselves to Business Class reward tickets. We actually boarded the flight at its origin. The Business Class cabin was two thirds empty on the two hour Buenos Aires – Santiago sector. We landed an hour off so before sun down in clear and warm conditions. With the Captain informing us it was still 29 degrees C.
Experience in air flight:
All passengers were deplaned at Santiago during one hour station stop. So that aircraft could be groomed for long-haul flight back to Toronto. Interestingly enough, Air Canada has traffic rights between Buenos Aires and Santiago, so some passengers left us. But larger numbers along with new crew were waiting to join flight at gate 15 in new Santiago Airport terminal. Large glass windows are a prominent feature of the new airport, which is great for aircraft spotters. But they somehow forgot to incorporate an adequate air-conditioning system. It was stifling hot as we wait to board the flight, although the Servisair-GlobeGround contract agents board the plane efficiently. There was no advance boarding for Business-Class passengers as normal in Canada. As we took our seats 2D and 2F in full Business-Class cabin and Globe and Mail newspapers handed out. Along with a Spanish language Chilean paper.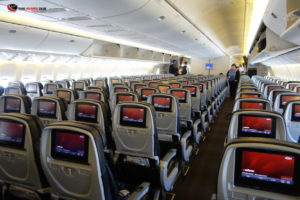 Facilities available:
A bottle of water was waiting in each seat for each passenger. There was no pre-departure drink service for Business-Class passengers (orange juice, champagne, wine etc) as is standard on other airlines. I decided the check the magazine rack for some interesting in-flight reading material only to find Canadian Living. These are Chatellaine, Canada Food and Wine, and Canadian Fishing; titles that are of little interest to most business travelers. There were no business and news magazines such as The Economist, Business Week, or Time. One would naturally expect to be provided. Our flight was under the command of Captain Green. He did not provide the passengers with welcome aboard announcement telling us about flying time, weather or weather at destination. Three flight attendants were allocate to the passengers in Business-Class cabin, with two working cabin and reparing meals and drinks.
Prior to take-off menus were distribute, with passengers having main course choice of Grille Chicken Breast serve over linguini. Over-baked Crabmeat and Corn Boat offered on rice pilaf, or Tortellini filled with mushroom accented and Tomato Basil Sauces. They are welcoming everyone aboard the flight. This was a very nice touch, and very impressive. As the flight was full, Gloria worked with her colleagues in the coach cabin for the duration of the flight.