India has 70 % of the world's tiger population, there were 1411 tigers in 2016 and increasingly it became 2967 in 2018. India has 104 national parks out of which 50 are Tiger reserves.
We went to Ranthambore national park in December, one of the biggest and renowned tiger sanctuaries in India in Sawai Madhopur district which is 180 km away from Jaipur. According to the census number of tigers in Ranthambore increased from 25 in 2005 to 62 in 2014. Due to unanticipated increase in the number, some Indian tiger can be moved to Sariska or other parks.
How wonderful would it be to go for ridding on dusky tracks in a peaceful tiger reserve hearing birds chirping and experiencing alluring beauty of nature? Tiger safari in India can best be experienced by the people who are adventurous and enjoys being in the arms of nature, I reckon everyone loves it.
I experienced one such thrilling tiger safari tour with my family in Ranthambore. Ranthambore National park is built upon an area of 392 sq km. Kings of Jaipur and nearby places used Ranthambore as a hunting ground.
Ranthambore consists of 10 different zones and we decided to pick zone 3 as it has 3 lakes Padam Talao, Rajbhag Talao, and Malik Talao and so it increases the probability of tiger sighting. So we all were very excited and confident somewhere that we would definitely encounter our meet with a tiger. We were 10 people split into 3 gypsies. Riding on an Open gypsy was itself escapade. A few moments later after we entered the park, we had no hunch that such an overwhelming nature is coming our way. We spotted diverse flora and fauna species in there but to our luck, we couldn't spot a tiger. And we got disappointed because we were carrying so many expectations of sighting a tiger.
We decide to give one more shot, we chose the same zone this time, we got encourage to hear from other travelers about their tiger sighting experiences. We enjoyed diverse range of species land, sky, water, but our main focus was Indian tiger and we knew today was our day, we heard birds chirping loudly and that's, where our guide knew tiger, is nearby, he positioned the gypsy near the lake and he shut the engine down, we waited and finally, we spotted the striped animal we quenching his thirst from the lake but we were instructed to stay quiet and to not make movements. Our guide recognized the tiger by the stripes and tail. Her name was "Sundari".
We realize that around a dozen gypsies were line up to get her sight, she chose the path between the gypsies to cross the track. She scared the hell out of us while crossing, and went into the bushes. It was such a thrilling moment sighting a tiger in the wild.
Things to be considered while going for a tiger safari in India
It's an open wildlife sanctuary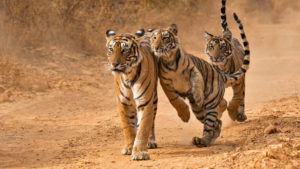 Remember you are not going to a zoo, its a wildlife sanctuary you cannot expect to encounter your meet with a tiger every time. Do not neglect other alluring nature offerings in the wildlife sanctuary in India. Tiger reserves offer a wide range of species both flora and fauna, there are many ravishing creatures apart from tiger to be suspicious about leopards, birds, foxes, elephants, deers, jackals, blue bull, snakes, mongoose, insects like chameleons, varied reptiles crocodile, tortoise and a lot many others.
Straight in the arms of nature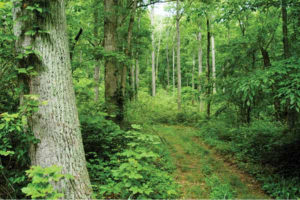 Tiger reserves in India offer a tremendous amount of beauty of nature to appreciate. Look around and you will encounter greenery everywhere, It gets you straight in the arms of nature. Eucalyptus, bamboos, sal trees and others contributing to the greenery.
Restricted gypsy routes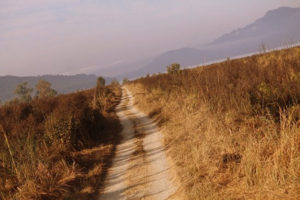 Gypsies in national parks of India are give routes to be follow. There are a limited number of gypsies that can go on a particular span of time. There is a dusky track make for gypsies to follow and a give time within which they can relish the natural beauty.
Listen to your guide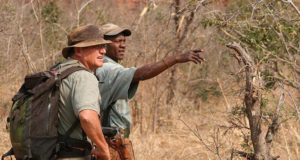 We hear cases of a tiger attacking every second day, as they say, precaution is better than cure. Therefore, keep your excitement on a second priority and listen to the guidelines of your guide first.
Cloths to wear on a tiger safari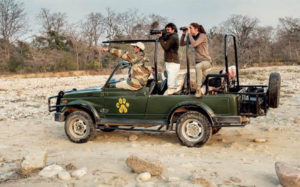 Despite riding adventurously on a dusky track. Your face might catch dust so do not forget to carry a neck gator to cover our face. Try wearing a full sleeves T-shirt and lower for the protection from the harsh and early morning cold breezes and dust. Carry a raincoat for the unexpected weather change situation.
Medical advisory
Be prepared to meet your new friends- mosquitos and other insects are complimentary with the gust. So do carry medicines regarding the same. Many Americans suffer malaria, yellow fever, and other diseases cause by insects so it is advisable for them to take pre- vaccinations.
Things to carry on a tiger safari in India: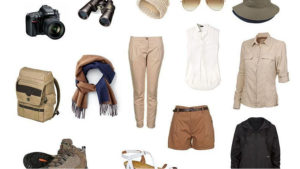 ID proof
tickets
scarf:
Glares
jacket
Water bottle
Cap
Camera(optional)
Snacks
Sanitizer
Currency
If you are an animal lover or naturalists then you should book your tickets for tiger safari in India with your friends or family to explore the beauty of nature and animal sighting on a thrilling jungle safari ride. It fetches the interest of many wildlife photographers out there. Who can experience wildlife holidays in India, it is surely going to be an extravagant experience.