Let's talk about the Two most prestigious cities of Thailand in the world. Bangkok-Pattaya is a land where history and heritage blend with modernity. It's most alluring coastal beaches, lively Nightlife, Floating Markets, Alcazar Cabaret Show, Rooftop bars and clubs, Pattaya's Coral Island, Bangkok's Marine Park, Safari world and the most popular Thai Cuisine are some beautiful reasons to choose Bangkok Pattaya Tour Packages. There is no wonder that these cities are in a list of world's top 10 most visited places, and recorded approx 27 million tourists in a year.
Here is the list of the 10 best reasons to opt for Bangkok Pattaya Holidays:
#1. Pattaya's Lively Nightlife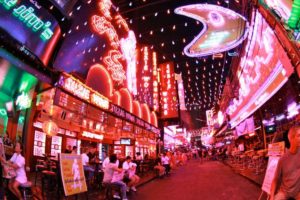 This is the place for all the party animals and Nightlife lovers. One of the best reasons why one should visit Pattaya is its Nightlife and has the most amazing rooftop incredible Pubs and Clubs. The real beauty of the city is outshone after the sun is set. The place drapes itself into the bright-vibrant colors of lights, where skyscrapers seem kissing the dark blue sky. The prismatic reflection of lights illuminates the colorless water with its glittering luster. This place to enthusiasm and energy when party-goers turn towards the stunning glory of Bars and clubs. For families, there's a long chain of Public clubs, Night bars, and Karaoke stations.
#2. Popular Walking Street of Pattaya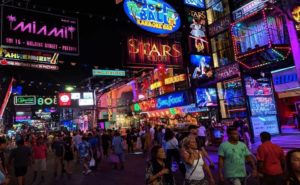 Practically if we analyze the tourist life of Pattaya, this place is not meant to be for family or young kids or children. This place is all about Nightlife fun in Beer-Bars, Alcoholic Clubs, and Mind-Altering Pubs. It is also a home for many Brassy Discos, Lucifer, Marine Disco, Insomnia, Candy shop, etc.
The way one celebrates the nightlife here is nowhere seen in Thailand. This place is known as 'Party Hub' of Asia.
In the Heart of the city lies the most popular 'walking street' where you can see all the Fun clubs, bars, and restaurants which are full of a lively atmosphere.
#3. Floating Market of Pattaya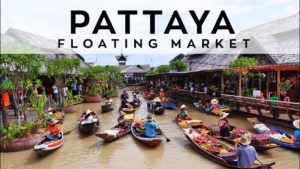 This is again one of the best reasons why one should opt Bangkok and Pattaya Tours. The place offers you a variety of things, handicrafts, wood-carvings, hand-made clothes, and decor artifacts, traditional Thai-wears, eateries-world famous Thai-Cuisine, are some souvenirs visitors should try and purchase for their families. At the entrance of the market, you would find four portions which represent four different parts of Thailand. This place is the best place for having a good bargain on Thai-food and handcrafts.
#4. The Grand Palace, Bangkok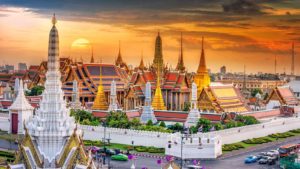 In 1782, the Grand Palace of Bangkok was constructed for the Kings of Thailand. It is the ancient historic place of Thai which is a complete blend of Tradition and Modern effects. This palace is so huge and complex with a stretch area of 2,18,000 square kilometers. The palace is so big and amazing consists of a chain of incredible gardens and resplendent buildings. Although it is only partially opene for tourists but it is sufficient enough to understand the wonders and the heritage of the place. There is something unique and amazing in every turn of the palace, but the most charismatic jewel is the Buddha's Emerald Temple that is called 'Wat Phra Kaew'.
#5. Temple of Reclining Buddha: 'Wat Pho'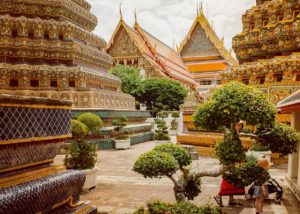 In the city of Beauty, the majestic jewel in the crown is undoubted, 'The Temple of the Reclining Buddha' which makes the eyes bedazzled by the luster of the golden Buddha. It is the most complex and big temples of the world having the largest collections of the Buddha images which makes this temple more attractive. The sleeping Buddha is a live example of human artistry and approbation. This temple was built with a vision that the civilize man is nurture by both the pursuits-Practical and Religious truth. One must visit such a pious artistic and mystical place.
#6. Tiffany's and Alcazar Cabaret Show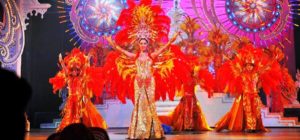 The most appealing family-friendly Ladyboy Cabaret show is one of the most popular shows in Pattaya. Eunuch Cabaret Show is the best medium of entertainment in the night.
Bangkok-Pattaya has such an amazing nightlife especially famous for the best eunuch shows that are 'The Tiffany's Show' and 'The Alcazar Cabaret Show', these shows are full package of Theatrical Drama a complete blend of Traditional Music and Attires.
After the show, you are free to take pictures with the Ladyboy performers, some generally allow you to take photos for free but there are many who take tips for the pictures.
These types of shows are famous for their energetic performances and the elegance of the Ladyboys.
#7. The Thrilling Safari World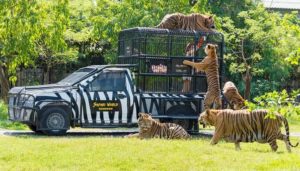 It is one of the Largest parks in Thailand for wild sightings. It is the best place to view wilderness in the naturally stimulating environment and various landscapes. A complete venture of the thrilling Tiger Safari in a special bus which can take you to the core of the jungle about 8-9kms where you can easily spot various wild animals like Tigers, Lions, Cheetahs, Panthers, Pandas, and the herds of Giraffes and Zebras cavorted elegantly in the grass. It is one of the major attractions in the Capital city.
#8. The Coral Island, Pattaya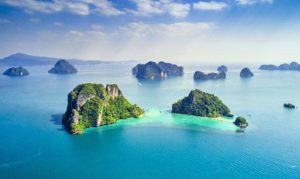 If you are a water animal, then this is the place for you. A trip to Pattaya's Coral Island, home to many small beaches with varied water activities. Perplexing sports like snorkeling and a soul-stirring underwater Dive are the major attractions of this island, must-visit for beautiful experience of such a thrilling sport. After a full-fledged fun, you can choose to take a long romantic walk at a White Beach, lined with multiple marvelous resorts, hotels, shopping malls, etc. In the evening and can have a stunning sunbath for shedding off tiredness. After the sunset, the Island becomes so bright and gets illuminate by the multi-color lights of the city.
#9. The Elephant Village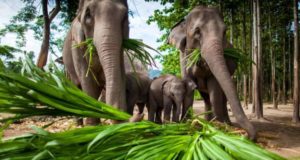 Filled with a unique animal magnetism is a must-visit place for those who are extreme animal lovers. This place is a safe haven for all the animals who are living a life of dignity and fear-free under this shelter. It is a life-saver and a non-profitable company, which uses all its earnings through fees kept for the medical bills and taking care of elephants. One of the most thrilling things about this village is Elephant Trekking, which everyone should experience once in their life. They also demonstrate various activities of elephants like elephant training, daily routine of elephants and elephant rides.
#10. Thai-Cuisine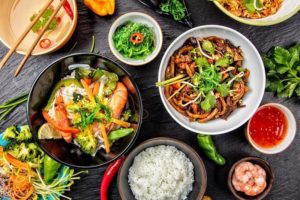 Thai-Cuisine is love by many tourists and it is also one of the main reasons for spending a lot of time in Thailand. Pattaya-food lures hordes of people. A variety of food stalls, food carts, food markets, meatball vendors, coffee peddling tuk-tuk, mobile and stationary sellers and many more options are available here. This place even offers you multiple choices of foodstuff, restaurants, hotels for the different budget visitors. So you can explore with each and every pocket-friendly eateries of Bangkok and Pattaya. The most popular food is Fried-Insects served with cold beer. And must-eat Thai-Cuisine.
Thailand has so much on offer from magnificent temples to illuminating shopping places, from Grandeur Palace to Romantic Beaches. Bangkok and Pattaya tour is a complete package of exploring heterogeneous places, sports, and various activities like safaris, water, and air activities like underwater diving, paragliding and many more. The nightlife experience of the city, where many Cabaret shows, entertaining clubs, resplendent bars are the most alluring and promising places of these two cities. These are enough reasons to convince anyone why one should visit Bangkok-Pattaya.