Being celebrated widely with loads of fervor, Holi is one of the most popular festivals in India that attracts thousands of local and international tourists in India during the festivity. As there are only a few months left for this festival, we are sure that all of you have planned out your days as Holi tours in India. So if you are really coming to India this Holi 2020 then we have mentioned some unique types of Holi celebrations in which you should take part to enjoy your Holi Tour package in India on fullest.
1. Lathmar Holi, Uttar Pradesh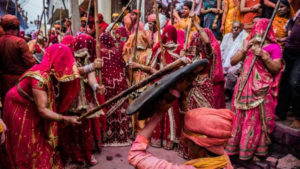 Lathmar Holi is one of the most famous types of Holi celebrations in India that you should not miss to enjoy your Holi tour packages in India with loads of joy and entertainment. Lathmar Holi is usually celebrated in the regions of Uttar Pradesh, mostly in Mathura and Vrindavan. On this festivity, married women usually beat their husbands with Lathis (in a friendly manner) and men come with a Dhal to prevent themselves from their wives. Lathmar Holi celebration is an important part of Hindu Mythology. It is also believed that Lord Krishna used to go to Radha's village and women usually beat him with wooden sticks to chase him away.
2. Holla Mohalla, Punjab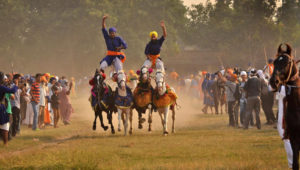 Holi celebration in Punjab is known as Holla Mohalla which also another famous type of Holi festival in India. Holla Mohalla is a celebration of the bravery of Sikhs and their unique martial art techniques followed by dancing and singing. One should surely experience this type of celebration while doing Holi Tours in India.
3. Basant Utsav / Dol Jatra, West Bengal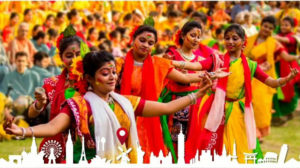 Holi in West Bengal is known as Basant Utsav or Dol Jatra which is celebrated widely with a lot of fervor in West Bengal. Basant Utsav celebrates the coming of the spring season in India. On this day, people usually wear saffron-colored clothes and dance and sing throughout the streets of their local towns. On the other side, Dol Jatra is a part of the main Holi celebration where people take Lord Krishna and Radha's statues are taken from the local streets by dancing, throwing colors, singing, and greeting everyone.
4. Baithaki Holi or Khadi Holi, Uttarakhand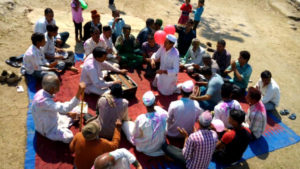 Mostly celebrated in some different regions of Uttarakhand, Khadi and Baithaki Holi are the two most popular types of Holi that should not escape during your Holi tours in India. Usually, this festivity is a musical gathering in which people wear their traditional attire, throw colors on each other, dance, sings, and take a round of the whole city in groups.
5. Manjal Kuli or Ukuli, Kerala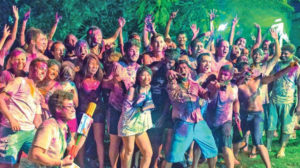 Holi festival in Kerala is celebrated as Manjal Kuli and Ukuli Holi. Although the Holi festival is not so popular in the northern parts of India but there are some communities and regions that celebrate Holi with different traditions and names just like Manjal Kuli. On this day people play with colors by applying them on each other's faces. The primary color they use for the Holi celebration is turmeric.
6. Yaosang Holi, Manipur
Holi in Manipur is known as Yaosang which is a week-long festivity celebrated with loads of fervor and enthusiasm by locals. The festivity starts from the full moon night and keeps celebrated with 6 days. The main attraction to see during this festivity is Thabal Chongba, a traditional folk dance performed by locals during the festival. Apart from folk dances, people also play with natural-colored powders and water balloons. So be a part of this festivity on your Holi tours and learn the unique culture and tradition of Manipur.
7. Rang Panchami, Maharashtra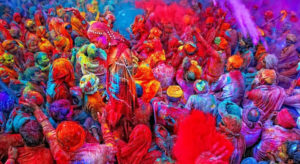 Maharashtra celebrates its own type of Holi which is known as Rang Panchami. Maharashtra celebrates this festivity similarly to North India. Usually, on this day, people burn a huge fire called Holika Dahan and a day after they play with dry and wet colors by throwing them on each other.
8. Phaguwa, Bihar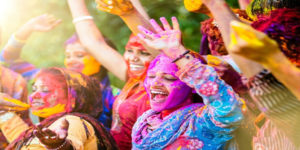 Holi is prominently known as Phaguwa in Bihar. Holika Dahan is also an essential piece of the inception of the Holi festivity where a fire is lit ablaze by local people a night prior to Holi. This is broadly drilled in numerous different pieces of the nation also. This activity basically means the success of good over evil. The following day is spent spreading dry and wet colors on one another for the duration of the day.
So this our list of 8 best types of Holi celebrations that you should not miss to enjoy on your Holi Tours in India. Being a part of these different festivities will add more fun and the level of satisfaction of choosing Holi tour packages for India. If you want to enjoy these celebrations then tell us which type of Holi you liked the most.